Hand Forged Bottle Opener from Spike – Attempt #2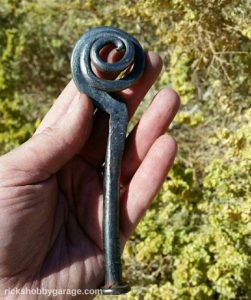 This is attempt #2 at making the spiral bottle opener…this time I did exactly what I wanted to do the first time!
The apparent issue I had last time was that I did not draw out the metal long enough. Instead of about 12 inches, I had to draw it out to about 14 inches. Big difference in length!
This project was made from an 8 inch long rusted spike, drawn out to about 14 inches long.
Just like the previous bottle opener, this was great practice of drawing out the metal and scrolling the spiral.
Once the drawing out and the spiral were complete, it was reheated in the forge and opened up the spiral a bit over the end of the anvil so that the bottle cap fits directly inside of the spiral.