Hand Forged Bottle Opener from Spike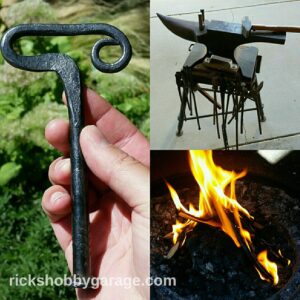 This project did not go as planned but still worked out in the end. I originally wanted to make this bottle opener into a spiral that would wrap around the bottle cap. I believe where it went wrong was that it was not drawn out long enough. I didn't realize this until after completing this design. I just couldn't get the spiral the way I wanted it so I rethought the design into what you see here.
This project was made from an 8 inch long rusted spike, drawn out to about 12 inches long.
Drawing out the steel is a process of lengthening and thinning out the metal. It can be a tedious process because of the time involved, but it can be beneficial such as for a project like this.
Similar to tapering, if not done correctly, the metal could fold over or dimple on the end. This project allowed for great practice of drawing out the metal.
I originally had the gap too narrow and it would not properly fit over the bottle cap. Reheating it in the forge and opening it up a bit more made for a perfect fit.