The Most Used Birdhouse in the Yard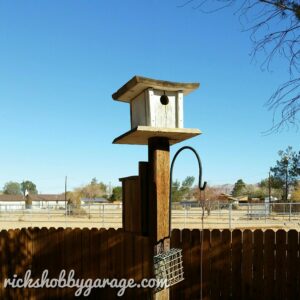 This is the most used birdhouse in our yard. We built this birdhouse sometime around ten years ago. Unfortunately, it has pretty much come to the end of its life span and had to be retired.
Every year bluebirds move in and start a family. When the eggs hatch, we can hear the baby birds inside and there have been a few times where you can see their little beaks sticking up.
We decided to make two more just like it this summer in hopes that the bluebirds still decide to take up residence here in our garden.
The new birdhouse shown below is at the same exact location and facing the same direction as its predecessor. We even painted it white to keep the environment the same. The only little difference in looks is the red painted trim at the front of the birdhouse. I hope that doesn't mess things up for the birds! I think it adds a nice touch.
This house stands on a wood post in the ground that stands about six feet high and the front of the birdhouse faces approximately south, the same as the previous house.
One downfall of the previous design was there was no easy way to open up the house and clean it out. The new ones now have an access door on the backside to make it very convenient to access.