160+ Sayings for Garden Signs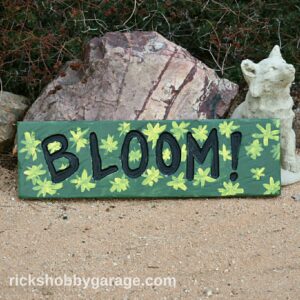 One of the fun things about gardens, other than the satisfaction of growing your own plants if you can get them to grow, is that you can decorate the heck out of them if you want. There are many different objects you can put in your garden to make it more entertaining, like bottle trees, solar lights, gnomes, mushrooms, various concrete statues, birdbaths, and so on.
But one thing that adds more character to the garden are signs. They express your personality, whether funny, crude, or just someone normal (whatever normal is).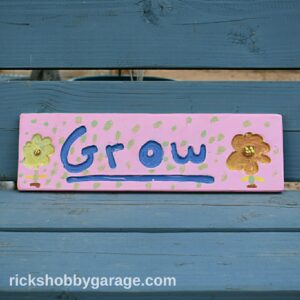 Signs are seen everywhere…in the house, garages and workshops, near the pool, game rooms…you name it, there is some kind of sign with a saying on it.
People like signs. Sometimes they make people chuckle. Sometimes it just gives people something to read and keep entertained for a short bit. They can be conversation starters.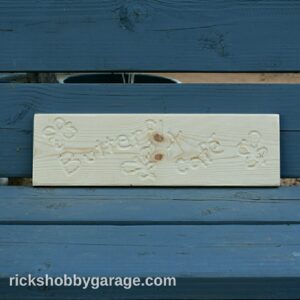 Here is a list of short sayings that can be, and some have been, made into signs for the garden:
[Herb Name]
[Plant Name]
[Your Name]'s Garden
Backyard Garden
Bee's Welcome
Bee Blessed
Bee Crossing
Bee Happy
Beets Growing
Believe
Believe in Them
Best Thyme
Beware of Gnomes
Beware the Bunnies
Beware the Rabbits
Beware the Snapdragons
Big Bloomers
Bird Café
Bird Garden
Birds Bathing
Birds Welcome
Bless my Bloomers
Bless my Garden
Bloom!
Bloomers
Botanical Masterpiece
Bunny Crossing
Butterfly Café
Butterfly Crossing
Butterfly Diner
Butterfly Garden
Cheaper than Therapy
Compost at Work
Compost Happens
Critters Paradise
Dads Garden
Dad's Weeds
Dig in
Dig It
Dirty Garden Hoe
Dirty Hoe
DIY Garden
Don't Step on the Weeds
Everybirdy Welcome
Exotic Garden
Exotic Herbs
Experimental Garden
Faith →
Flower Garden
Flower Plower
Food not Lawns
Free Weeds!
Fresh Fruit
Fresh Produce
Fresh Vegetables
Frog Parking
Frog Parking, all others will be Toad
Garden Dreams
Gardeners Therapist
Garden Fresh
Garden Gnomes
Garden Hoe
Garden of Eden
Garden of Eve
Garden of Gnomes
Garden of Love
Garden of Weedin
Garden of Weeds
Garden Rebels
Garden Shed
Garden Therapy
Garden Thyme
Garden Tools
Garden Tours
Garden →
Give it a Chance
Go Away
Grab a Hoe
Grandma's Garden
Grandma's Weeds
Grandpa's Garden
Grandpa's Weeds
Grow, Dammit
Grow, Darn It
Grow!
Grow a Garden
Growing Weeds
Grow Later
Grow Laughter
Happy Hour
Happy Place
Harvest Love
Herb Garden
Herbs
Home Grown
Hope →
Hopeless
I Tried
I tried, It Died
It's a Compost Thing
It's a Dirt Thing
It's a Loam Thing
It's a Manure Thing
It's a Soil Thing
I Wet My Plants
I've Got Worms
Late Bloomers
Let it Go
Let it Grow
Life's a Garden
Life's a Garden
Life's a Garden, Dig It
Locally Grown
Love Grows Here
Moms Garden
Mom's Weeds
My Therapist
My Therapy
Never Enough Thyme
No Fishing
Our Big Bloomers
Our Bloomers
Our Garden
Our Pretty Bloomers
Potting Shed
Primitive Garden
Rabbit Crossing
Rise Up
Romaine Calm
Secret Garden
Signs of Thyme
Slug Crossing
Snail Crossing
Snails Trail
Snapdragons on Duty
So Little Thyme
So Many Weeds
Squirrel Crossing
The Blooming Idiots
The Dirty Hoe
The Happy Tillers
The Idiot Garden
Therapy
The Rebellious Garden
The Therapist
The Weeds are Winning
The Weeds Win
They are Trying
Think Outside
Thyme to Grow
Toads Welcome
Veg Patch
Warning! Gnome on Duty
Warning! Snapdragons
Warning! Snapdragons on Duty
Weeds! Pick Your Own
Weeds 4 Sale
Weeds for Sale
Welcome
Welcome to my Garden
Wild Buds
Wits End →
Worm Crossing
You Grow Girls!
You're Next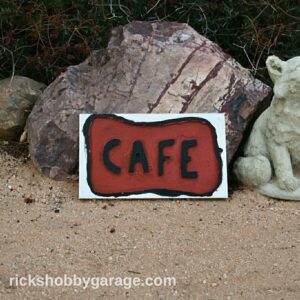 If you know of other sign sayings that would be appropriate for the garden, put it in the comments in this post below. If it is a good one, I will add it to the list above for all to read.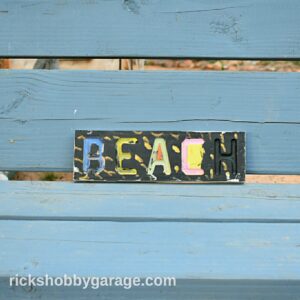 You can make signs yourself without any special tools. Find a wood board, or metal pan…anything…and paint the saying on it. I have seen sayings painted on old windows…just use your imagination.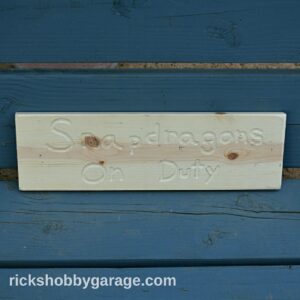 The signs pictured on this page were nominal 1″x6″ pine boards I had left over from a recent project. I used a plunge router and free-handed the routing. You don't have to use a router to make them look cool. A simple paint brush and some imagination can go a long way.
Our four 4 year old and eight year old kids painted the signs shown here. They used outdoor craft paint so they last a little longer outside.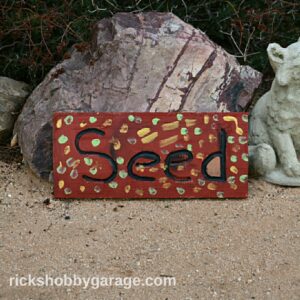 So, add some character to your garden and start making yourself some signs!